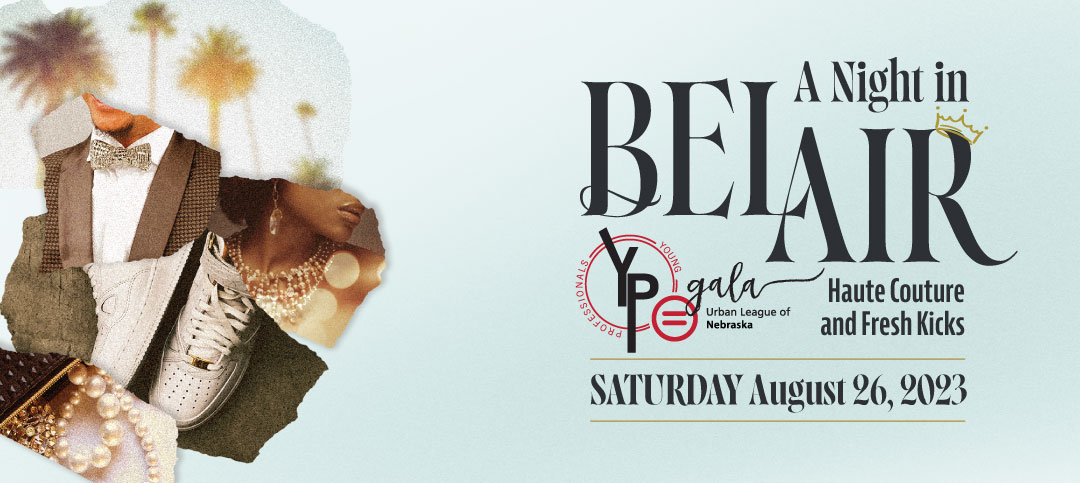 Young Professionals Gala – "A Night in Bel Air"
Step into the world of sophistication, high fashion and a touch of modern swag at the Urban League of Nebraska Young Professionals': "A Night of Bel Air"! Inspired by the newly re-created series spin-off of the iconic Fresh Prince of Bel Air, this year's event promises to be an unforgettable evening filled with modern elegance, upscale vibes, and a unique twist.
Join us as we honor the remarkable individuals who have not only made a profound impact on our community but have gone above and beyond for our beloved YPs. It's time to celebrate their achievements and show our appreciation for their unwavering dedication. You don't want to miss this opportunity to show your support for those who are making a real difference in the world.
Now, let's talk about style! Our dress code is all about blending the modern with the luxurious. Picture yourself draped in elegance, exuding confidence with every step you take. Think sleek and sophisticated with a twist of individuality. This is your chance to express your unique fashion sense while embracing upscale attire.
And here's the exciting part – you can wear tennis shoes! Yes, you read that right. We're breaking the rules and redefining what it means to be chic. Combine your favorite pair of trendy sneakers with your elegant ensemble, making a statement that screams "A Night of Bel Air!"
But the night doesn't end with awards and accolades. Get ready to let loose and dance like there's no tomorrow at the most lit dance party you've ever experienced! We've lined up Atlanta's dynamic duo, The Jason and Genius, as our emcees, guaranteeing a night filled with incredible beats, electric energy, and non-stop fun. They'll keep the dance floor packed and the party vibes soaring throughout the evening.
So mark your calendars now… Saturday, August 26, 2023. This evening will be the epitome of modern luxury and a celebration of outstanding individuals who make a difference. Ladies grab those dresses or gowns and fellas grab those suits or tuxes you've been waiting to wear. Get ready to mingle, dance, and make memories that will last a lifetime.
For tickets and more information, visit: https://birdease.com/ULNYPGala