Make this summer one you'll never forget – thanks to STEP-UP Omaha!
Get paired with a quality job and earn up to $1,800.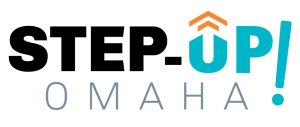 Get paid for job training and gain life skills by participating in STEP-UP Omaha! This summer employment program is designed to pair eager youth and young adults with quality jobs during the summer months. Participants will receive weekly pay and gain valuable insight on job training, work experience, life skills and even community service opportunities. STEP-UP Omaha! is an initiative by the Empowerment Network, the City of Omaha and the Urban League of Nebraska.
Program Highlights
Earn up to $1,800 during the summer
Gain on-the-job experience and learn more about career opportunities
Develop new life and work skills such as interviewing and customer service
Connect with long-term employment opportunities
Participation
The STEP-UP Omaha! program is designed for anyone ages 14-21 years old.
Registration
Go to STEPUPOmaha.com to register for the summer program online.
Questions
For questions or more information on STEP-UP Omaha!, contact the Empowerment Network at 402-502-5153 or LaWanda Gould at Lawanda.Gould@urbanleagueneb.org or fill out this form to receive more information.